The Tait Trust are delighted to announce that John Frost AM has kindly agreed to be a new Patron of the Trust here in the UK and has also agreed to be Patron for the Tait Performing Arts Association in Australia. We are also thrilled to congratulate him on being awarded the AM (Member in the General Division) part of the 2014 Queen's Birthday Honours Australia.
This has been a significant year for our new Patron as he was also awarded the coveted, JC Williamson Award from the Helpmann Awards. It is significant to us too as the Trust was created to memorialise the great work done by Sir Frank Tait and his four brothers when they ran The Firm/ J.C.Williamson's Ltd. We are delighted to know that the name of this once great Australian firm has been immortalised in this wonderful award.
The article below is reprinted from the Helpmann Awards site
Live Performance Australia (LPA) has today announced that revered theatre producer John Frost has been named the 2014 JC WILLIAMSON AWARD™ recipient.
The JC WILLIAMSON AWARD™ is the foremost honour that the Australian live entertainment industry can bestow. The award recognises individuals who have made an outstanding contribution to the Australian live entertainment and performing arts industry and shaped the future of our industry for the better. Past winners include such iconic figures as Dame Joan Sutherland OM AC DBE, Barry Humphries AO CBE, Michael Gudinski AM, John Farnham AO and Graeme Murphy AM to name but a few.
John Frost has produced some of Australia's most successful musical theatre productions over the past 3 decades. From the early days of the Gordon Frost Organisation with Hello Dolly!, The Secret Garden, Cabaret and Crazy for You to blockbuster musicals of more recent times such as Wicked, The Sound Of Music, Annie, The Wizard of Oz, Grease The Arena Spectacular, Chicago, South Pacific and A Funny Thing Happened on the Way to the Forum, John Frost has nurtured and steered the careers of hundreds of cast and crew with his passion and imparting knowledge. This year alone sees him producing multiple shows around Australia including Grease, The Rocky Horror Picture Show, Wicked – 10th Anniversary production, The King and I with Opera Australia, and Once with the Melbourne Theatre Company.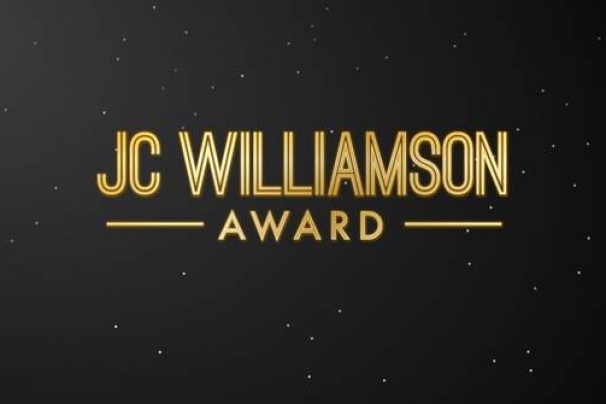 John commenced his impressive career at the age of 16 when he was employed as a dresser on the J.C. Williamson Ltd production of Mame. The dedicated teenager worked his way up within the theatre world to Wardrobe Master, Stage Manager, Company Manager and eventually Producer. Having produced countless successful Australian productions over the years John has also gained international respect having won 2 Tony Awards for the Broadway productions of Hairspray and The King and I and currently has 2 shows playing on London's West End, The Bodyguard and Blithe Spirit. John's Australian productions of The Producers, Wicked and Legally Blonde – The Musical won Helpmann Awards for Best Musical in 2005, 2009 and 2013 respectively.
"I am truly grateful to Live Performance Australia and the JC Williamson Award Committee for this incredible honour. Receiving the JC Williamson Award™ is the highest tribute that can be bestowed on someone working in the performing arts industry, and to be acknowledged by my peers for a job I love is gratifying and inspiring. I'm humbled to be in the company of Googie Withers and John McCallum, Kenn Brodziak, Clifford Hocking, Tony Gould and other past recipients of this prestigious award. Thank you." said John.
John Frost will be honoured at an industry celebration hosted by LPA in association with Queensland Performing Arts Centre (QPAC) in Brisbane on Monday 19th May. The night will include special performances as well as a host of special guests paying tribute to the theatre impresario and his outstanding contribution to the live performance industry in Australia.
LPA President Andrew Kay said, "We are thrilled to announce John Frost as this year's JC Williamson Award recipient. John joins the ranks of a group of individuals who in their own way, and in their own field, have made extraordinary contributions to shaping and changing the landscape of our dynamic live performance industry. John's contribution to commercial musical theatre in Australia is internationally renowned and esteemed in this country. We are delighted to be able to formally recognise his contribution and achievements at a celebratory dinner in May and at the Helpmann Awards on 18 August."
NSW Minister for Tourism, Major Events and Minister for the Arts, George Souris today congratulated Mr Frost on his prestigious award, which will be presented at the Helpmann Awards at Sydney's Capitol Theatre in August. The Helpmanns, supported by the NSW Government, recognises those who have made an outstanding contribution to the performing arts industry.
"Over the past three decades, John Frost, who hails from Sydney has produced some of Australia's most successful musical theatre productions, many of which have premiered right here in Sydney." Mr Souris said.
"It has been a great joy to work with my friend John Frost during this exciting period of development for Opera Australia. John is the ultimate professional and his advice and knowledge of the music theatre business is not only highly perceptive but it is fuelled by a real passion for the theatre. He is also a wonderful human being whose generosity of spirit and his genuine love of the theatre is inspiring to everyone who has had the privilege of working with him. He has been (and still is) an extraordinarily strong advocate for Australian artists and I believe that there is no-one who is more deserving of this prestigious award than John Frost….and there is no-one who is a finer ambassador for our industry." said Lyndon Terracini, Artistic Director Opera Australia.
QPAC Chief Executive Mr John Kotzas paid tribute to Mr Frost calling him one of the great legends of the stage in Australia. "I've worked with John for many years now and the professionalism and consistently high quality productions that John tours around Australia are remarkable. John is a well-respected and most welcome producer and guest at many venues around the country – I know QPAC staff are always eager to work with him and our audiences certainly show their support. Well done John!"
JC Williamson Award ™ presented by Live Performance Australia™ in association with Queensland Performing Arts Centre